Festival Days
Back in the 90's, yes the 90's, we, when I say we, I mean Pink Inc., we would spend our spring / summers touring to festivals around the country and the world! Some of my favorite life travels and stories come from those days.
The photos above are from a variety of spots and a variety of products that we would take out to festivals.  I get excited just thinking about telling you all about this festival history. Oh, the places I have been. This artform has taken me on a journey and I will share more of it in the Originators Design Blog posts.  Some of the artifacts and photos from back in the day are harder to track down. So, no go digital, however the search is on and I look forward to it.
A few of the festival highlights that JUMP to mind are…
• Woodstock 25th year anniversary
• The Sarajevo Winter Festival (just after the war)
• Tokyo (2x!) and Japan in the International Puppet Festival
• Busker's Faire right here in NYC World Trade Tower Plaza and Fidi.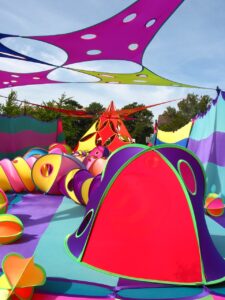 FabricAction, Pink Inc.'s Playscape went on sponsorship dollars to festivals all over the country and world.  Arts Festivals, Children's Festivals, Music and Cultural Festivals all loved Pink Inc. and many of the different theatrical presentations, spectacle performance or large scale sculptural installations. This colorful montage of fabric stripes combines with spiral tubes and landmarks into an Alice in Wonderland environment for children and their care takers.
It was a fun immersive visual experience.  Just when you thought you saw it all elements came alive – surprise out of nowhere animated sculptural forms grew.
AH! Gotta LOVE a PARADE! So the Mermaid Parade is NO EXCEPTION! Coney Island, many a year, we were there with a new sea creature or mermaid.  If you are looking to get inspired or just get an eyeful thisPARADE is THE place to do it! Rain or shine!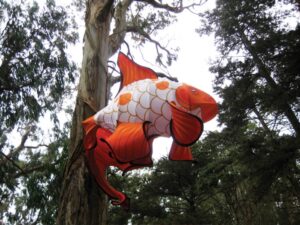 The incredible Carp Lantern. OutsideLands Festival Approached us with the challenge of making  10′ x 4′ printed fish lanterns, internally lit, for 4 days of festival installation in San Francisco's Golden Gate Park.  Pink Inc. came through, using complex patterning of both the graphics and fish form we created portable, sturdy, beautiful festival beacons.
Now you have a start on the history of Originators Design.  Pink Inc. built sculptural fabric environments and  live performance art. Festivals were a back part of our history and there is so much history to tell!